Monthly Archives:
December 2013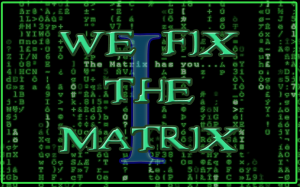 NERDS VERSUS THE MATRIX. Well, sort of. We decide to tackle the infamous sci-fi trilogy, starting with the impeccable first movie. Sequel discussion to come! But what if the Matrix had gone with the initial casting of WIll Smith and Gary Oldman? And how about the Wachowskis anyway? Find out the truth of these… and MORE!
ENJOY THIS REVIEW AND DISCUSSION PODCAST.

ATTRIBUTION:
MUSIC COURTESY OF:
Countryside 1 by Jake Kaufman from the Double Dragon NEON soundtrack
IMAGES COURTESY OF:
Hugo Weaving, Disguise Costumes, Marvel Comics, Warner Bros. Pictures, Anna Hanks, http://www.flickr.com/photos/annaustin/8204529660/, Village Roadshow Pictures, Silver Pictures, Groucho II Film Partnership, http://en.wikipedia.org/wiki/File:Jewfro.jpg, Mattel, Filmation, Square Enix, DIC Entertainment, Sega of America, http://www.flickr.com/photos/tonyshek/9780420895/, Angela George at http://www.flickr.com/photos/sharongraphics/, Georges Biard, Colin Swan, http://en.wikipedia.org/wiki/File:Stephen_Fry_cropped.jpg, Lionsgate, Paramount Pictures, Funny or Die, Warner Bros. Television Distribution, Gearbox Software, Universal Pictures, www.bollywoodhungama.com, 20th Century Fox, Walt Disney Pictures
All artwork, clips, and videos belong to their respective owners
"Copyright Disclaimer Under Section 107 of the Copyright Act 1976, allowance is made for "fair use" for purposes such as criticism, comment, news reporting, teaching, scholarship, and research. Fair use is a use permitted by copyright statute that might otherwise be infringing. Non-profit, educational or personal use tips the balance in favor of fair use."
Podcast: Play in new window | Download
Subscribe: Apple Podcasts | Android | Stitcher | Spotify | RSS
Part the finale The gang decides if Captain Planet had any value, and what truly were the best and worst nostalgic cartoons of the 80's and 90's. Was it Batman? Animaniacs? He-Man? FIND OUT!
ENJOY THIS REVIEW AND DISCUSSION PODCAST.
Podcast: Play in new window | Download
Subscribe: Apple Podcasts | Android | Stitcher | Spotify | RSS