Tag Archives:
Mimbolovedeadpool
The gang returns with J, B, and super special secret guest the mysterious Mister S to discuss the comic books they saw (and the ones they didn't see) from 2016 and speculate on everything coming up next year!
Nerd Punches 2016 in Review - Comic Book Movies!
[ 1:36:46 ]
Play Now
|
Play in Popup
|
Download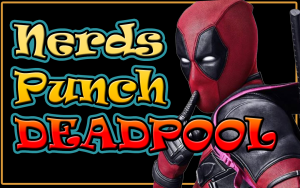 The boys are back! Benjy and Jeremy join super special guest Sam to discuss — and debate — the merits and demerits of the latest comic book movie DEADPOOL. Is it the best comic book movie in a year or only near that? Listen in and find out!
Nerd Punches DEADPOOL - Spoilers Review
[ 1:12:23 ]
Play Now
|
Play in Popup
|
Download
The boys cover the stories of the day, talking about the Deadpool trailer footage, the upcoming DC comics plans, the most recent X-Men movies, and finish off with our favorite memories of Robin Williams.
Nerd Punches Nerd #17 - Deadpool, DC Movies, X-Men, Robin Williams
[ 1:32:49 ]
Play Now
|
Play in Popup
|
Download